2. Dryer features and settings
Heat pump dryer
Below are some features that Electrolux heat pump dryers offer:
Electrolux dryers come with DelicateCare system that carefully controls temperature and motion settings so that each cycle is tailored to the unique properties of delicate fabrics, such as wool and silk. Wools are kept flat against the drum's surface and silks are gently air-dried. You can now rest assured that the quality of your clothes is preserved for longer protecting against shrinkage and shape-loss.
The heat pump technology puts less damaging heat stress on your fabrics, since this type of appliance dries your clothes at lower temperatures to keep them looking new for longer. Also, Electrolux heat pump dryers consume 50% less energy usage than traditional machines.
With Electrolux Life App, you can be confident that your delicate clothes will be perfectly cared for. The Care Advisor provides you with extensive guidance on cleaning up to 48 fabrics and 40 of the most common stains. 
The alternating clockwise and anti-clockwise drum movements help to protect clothes from tangling, bringing about up to 32% less wrinkles compared to air drying.
You can dry woolens, shoes and soft toys on the dedicated rack without any tumbling. Your precious items are evenly dried with no shape or textural damage.
Condenser dryer
Below are some features that Electrolux condenser dryers offer:
Electrolux condenser dryers come with SensiCare system that uses temperature and humidity sensors to make your clothes retain their look and feel for longer. By tailoring the energy consumption and cycle time according to the load size and fabric type, SensiCare reduces wear and tear, and avoid over-drying.
Our dryers protecting your clothes from tangling with the alternating drum movements.
Gentle care for delicates
The Delicate Drying program automatically reduces temperatures so that your delicates (silk, wool, lace) are gently taken care of.
The Inverter motor reduces vibration to deliver quiet, reliable, and more energy efficient drying without compromising on performance.
Venting dryer
Below are some features that Electrolux venting dryers offer:
For Electrolux dryers, you can select the 30-minute timed cycle to dry everyday fabrics, cotton or blended fabrics that need to be dried quickly. This program dries your smaller loads within 30 minutes, for those times you just need to get things done rapidly whilst saving energy.
Sensors automatically measure the dryness of clothes during the cycle, adjusting drying times to reduce wear and tear.
Our Woolmark approved cycle ensures that your treasured woolen garments are safely dried. This program is proven to care for tumble-dryer safe woolens with optimum cleaning.
Alternating drum movements prevent clothes from tangling, reduces wrinkles by up to one third compared to hang drying to make ironing quick and easy.
You can rely on Electrolux dryers in preserving your clothes' shape and color. Our dryer machines come with ColourCare that reduces fading by up to 80% compared to hang-drying. Now you can give your clothes a longer life, for a more sustainable future.
Read more:
3. Dryer capacity and size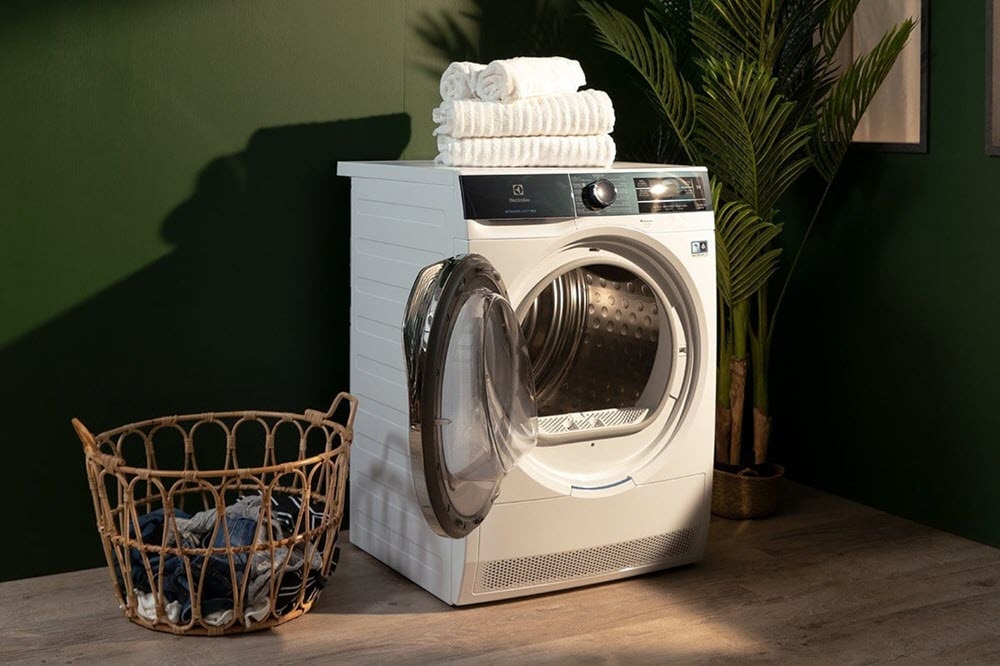 The frequency of your laundry and the size of the loads should also be a key consideration when looking to buy a new dryer. Make sure that you measure the available space for your dryer so you know the best dryer size that suits your household.
If you only live alone or share it with one more person in a limited space, then having a compact dryer would be a reasonable choice. A compact dryer is roughly 60cm wide with a 3.5 - 4 cubic foot drum, which is great for tight spaces. If you have an even tighter space that couldn't fit both your washing machine and dryer, a compact washer dryer set may be sufficient.
Full-sized dryers, on the other hand, are generally more suitable for larger space with 27" wide with 7 cubic feet of capacity. Capacity is another important factor to consider when buying a dryer, which is measured in kilograms. For large households with sufficient laundry space, choose an 8-9kg dryer to dry larger loads quickly.
>>> Read more: 10 tips to take care of your clothes
4. Loudness level
A clothes dryer can be quite loud because it has a spinning motor and drum, as well as an exhaust fan. Consider where your dryer will be located, how close it is to your bedrooms, to your kids' rooms, and whether it interrupts your studying or working time. If possible, try and determine exactly how loud it is before you buy it.

>>> Read more: A complete guide on how to wash and dry polyester pillows properly
5. Product Warranty
Electrolux offers 1 year of general warranty for our dryers and the warranty period for your dryers' motor is 10 years. Also, we understand the inconvenience a breakdown can cause. It is not just the hassle of laundry piling up - it is the unexpected cost of repairs and replacement or having to wait for days for unreliable or unqualified service technicians.
After 100 years of providing technology for better living, Electrolux has redefined home living – including how you dry your laundry.