It may have been a while since you have been in the market for an oven and things have probably changed. We have created a practical guide with helpful tips to choose a good oven for you and your home.
The benefit of having a built-in oven is the ability to place it wherever suits you. If you are replacing an existing product, you are in most cases limited to the size and style of oven you want.
On the other hand, if you are starting from scratch or willing to adjust your cabinetry, there are plenty of options for you to choose from. You need to think and assess what the right oven is for your design and what will work best for your cooking style.
1. Oven size & capacity
Size
Your ideal oven size depends on the type of cooking you do, your cooking frequency, kitchen space and household size. Apart from width and height, ovens are also measured for volume in liter.
45cm in height: A compact oven
60cm in width: A single standard size oven
90cm in width: A large model with side-by-side trays
Capacity
You can refer to the capacity guide below to choose the most suitable oven for your needs:
1-2 people: A 30–40 liter oven suits single households or couples, who eat out regularly, but like the compact convenience of a small capacity oven.
3-4 people: A 40-70 liter oven suits most households and can fit a large roast and the trimmings if you opt for one with multiple shelf positions.
4+ people: A 70+ liter oven is best for large households or those who like to entertain, offering unparalleled capacity.
2. Fuel type
Size, style and cooking functions are all important things that influence your final oven purchase decision, you will also need to consider whether you would like a gas or electric oven.
| | |
| --- | --- |
| Electric ovens | Gas ovens |
| More common than gas ovens | More expensive initial outlay than electric ovens; however, given energy efficiencies with gas cooking, they will cost less over their lifetime |
| Generally provide more even heat distribution, especially when equipped with a fan | Cook with greater moisture, making them ideal for cakes and roasts |
| Require pre-heating, this process has become quicker with modern innovation | Faster heating than electric models and more precise temperature control |
| Generate drier air which can assist with crisping and browning | Generally contain fewer parts than an electric oven, so the lifetime maintenance should be easier |
| Majority of models need to be hardwired by a certified electrician; some ovens will come with a plug and lead suited to a particular amp rating | Can run off natural gas or an LPG bottle - model dependent |
Check out some Electrolux electric ovens:
RM 179.00 RM 209.00
Toaster Oven cooks, toasts and reheats with ease.

60-minute cooking timer with end alarm.
Select stay on function for continuous operation.
See more
RM 349.00 RM 409.00
3-in-1 oven toasts, bakes and grills.

Convection function for roasting or baking.
High power for fast heating.
See more
3. Types of ovens
Single ovens
By far the most popular and common type of built-in oven, a single oven can be installed where you want it. With the ability to go within wall cabinetry or under bench, your kitchen layout is limitless. Full of practical features and a choice of width 60cm and 90cm ensures that whether your family is big or small there is the oven for you.
Ideal for:
Small family - large family
Apartment living
Rental properties
Capacity:
80 - 125L
Below are some features that Electrolux single ovens offer:
StyleSteam cleaning 
Cleaning your oven is now an easy chore with Steam Assisted cleaning. Just add water to the bottom of the oven and the steam will help to dissolve grease, making it easier to wipe out any dirt from the oven's surfaces.
Tastier baking starts with steam
SteamBake function helps you get a better rise, crispier crust, a fluffier centre and tastier textures for all your bread, pastries, cakes, and puddings.
Close automatically
SoftClose hinge design slows down the door when closing. With just a gentle push, it'll softly close by itself.
Timer setting 
Have you ever forgotten to turn off the oven after cooking? With the timer setting, Electrolux ovens will automatically turn off after cooking.
Fingerprint-free finish
Stainless steel is not only a stylish and versatile finish, but it is also anti-fingerprint, helping to protect the surface from dirty marks.
Precise cooking
Whether you're broiling beef or roasting chicken, the precise sensors will inform you when your dishes have been cooked to the desired temperature, and automatically stop the process to prevent food from over-cooking. By monitoring the temperature during your cooking process, your meat will be deliciously succulent.
LED timer display
Our single ovens come with the LED timer display for you to easily set exact cooking times and monitor the cooking process. You can have total control of the cooking and show your creativity with impressive results.
Check out some of our single ovens:
SteamBake for bakery-style bread at home.

Smart food probe monitors core temperatures.
Easy pyro cleaning at high temperature.
See more
RM 4,899.00 RM 6,599.00
SteamBake for bakery-style bread at home.

Different oven functions for diverse cooking.
LED timer display sets exact cooking times.
See more
RM 3,459.00 RM 4,699.00
Different oven functions for diverse cooking.

LED timer display sets exact cooking times.
Steam Assisted Cleaning makes chores easier.
See more
Steam ovens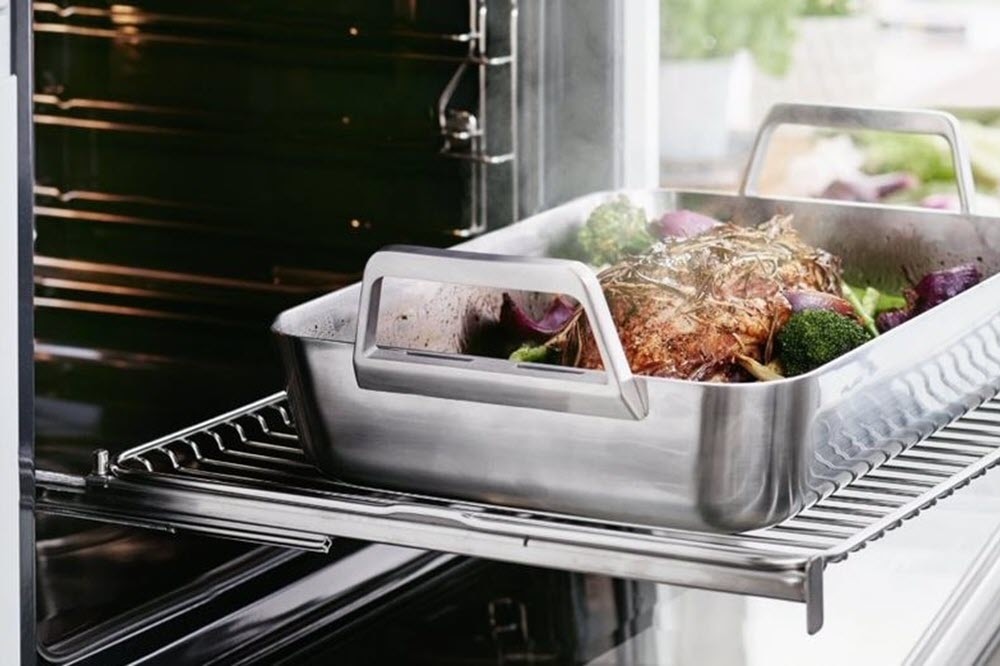 Whilst steam is traditionally found in a professional kitchen, the benefits have now been shared with it coming in domestic appliances. When it comes to steam, the perception is that this is only for rice and vegetables when in fact it is perfect for roasts and baking.
Ideal for:
Small family to large family
Apartment living
Adventurous Cook
Capacity:
80 - 125L
How it works?
The humidity created by combining steam with hot air throughout the cooking process creates a crisper layer on the outside of your dishes preventing your food from drying out and loss of nutrients.
Below are some features that Electrolux steam ovens offer:
Steam Pro, our secret for delicious effortless cooking
Bring out natural flavours and goodness with our versatile steam functions. SteamBake is ideal for meat, poultry and fish, ensuring an even cook from the centre to surface with a crisp golden finish.
Demystify steam cooking
The Steamify feature enables you to create delicious flavors and textures with steam. Just select the temperature that you would usually use, and the accurate amount of steam will be delivered to cook your dish in an optimal way.
A shortcut to delicious meals
The oven's color touch display provides an intuitive cooking experience. With its quick, easy programming, you'll save time with shortcuts to your most frequently-used functions so you no longer have to waste time scrolling to find your favorite settings.
Program for perfection
Whether you're cooking roast potatoes, steaks or a pizza, the oven will automatically adjust the cooking function, time and temperature to deliver the best possible results, adding steam whenever necessary.
Double ovens
The entertainer's oven, by choosing a double oven you are able to take entertaining to the next level. One of the biggest juggles when entertaining is cooking multiple elements of a dish or course, they may need different temperatures, cooking times and functions. By having a secondary oven, you are able to cook with confidence and still entertain your guests.
Ideal for:
Larger family
Ultimate Entertainer
Pyrolytic ovens
Cleaning the oven - the dreaded chore. With a Pyrolytic Oven, the chore that was once avoided can now be embraced. Pyrolytic ovens are self-cleaning. By reaching a high temperature, you can save time, effort and minimize the need for cleaning chemicals, as it turns your grime into ash so you just need to wipe it away.
Ideal for:
Small family to large family
Apartment living
Below are some features that Electrolux pyrolytic ovens offer:
Easy-to-clean appliance
Electrolux Pyrolytic ovens is equipped with the unique Pyrolytic Self-Cleaning function that safely burns all food residues to ashes at high temperatures. You can easily wipe it out without harsh chemicals, making your cleaning chore easier.
Evenly distributed heat
With the UltraFan Plus feature, the heat is distributed evenly no matter where your food is placed in your Electrolux oven, ensuring it is cooked perfectly.
Safety for your kitchen
Thanks to the 3-layer door, the oven is kept insulated, giving you safety while experiencing your cooking journey.


Check out repair service for your ovens:
4. Design & other considerations
White, Natural or Dark Stainless Steel
A kitchen should feel timeless, using design elements and classic materials that will look good today and in a decade's time. Whether you're doing a complete renovation or replacing a single appliance, you can take your kitchen in a fresh new direction. With three options of finishes, you can look to a traditional white appliance or give your kitchen a modern update with natural or dark stainless steel.
Contrast or complement your cabinetry
Take into consideration what will work best with your chosen finish. For example, you could contrast dark stainless with lighter colours like bright whites or creams or complement with dark or stained wood cabinetry.
Coordinate your accessories
From pendant light fixtures to a vase, it is important to think about what will be complemented by its surroundings.
Choose from one brand
One thing to note when upgrading your kitchen is, just as there are 52 shades of white, same goes for appliance finishes.  For best results, buy your appliances from one brand to make sure everything is seamless.
Dial or Touch Controls
Whether you are someone who likes the feeling of turning a dial or prefers a touch control panel when setting your oven, there are a number of options to choose from. All designed to be sleek and simple to operate, you'll have total control over your cooking temperatures, times and functions.
Check out our helpful tutorials on how to use an oven.

Read more:
5. Warranty & service
Warranty
Subject to terms and conditions our stoves come with 12 months warranty in Malaysia, following the date of purchase. Click here to view Terms and Conditions.
Support & service 
We have a Customer Care team available to assist you over the phone seven days a week, and a national network of experienced technicians and selected service agents. Offering a fixed price guarantee with no additional hidden labor costs, giving you peace of mind that your appliance is in good hands. Click here to contact customer care. Click here to book a service online.

Discover our fixed price repair service for built-in oven and integrated microwave oven!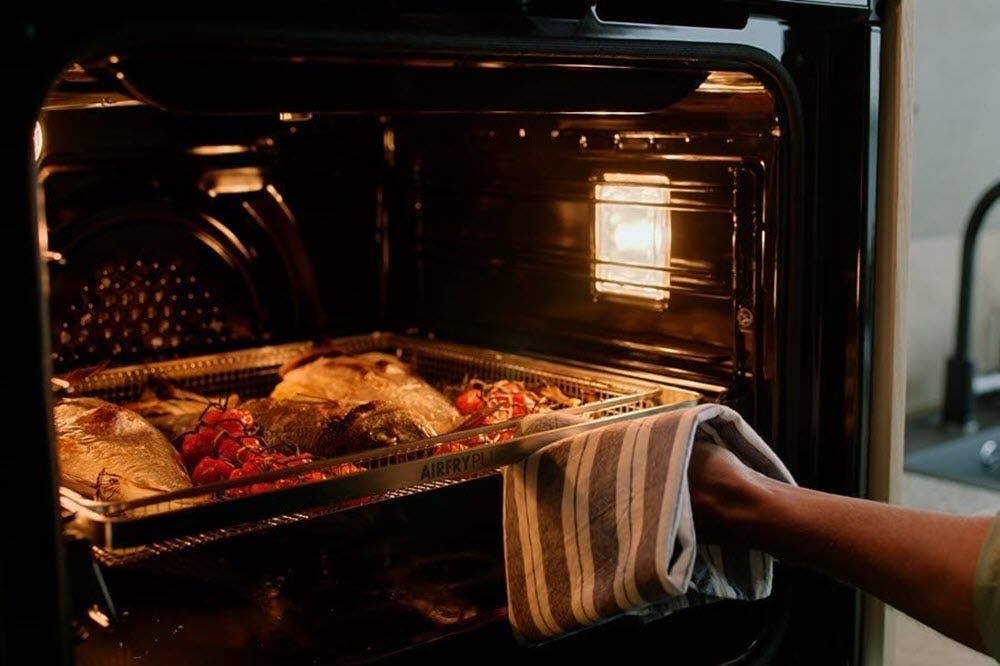 Oven FAQs
What is a steam oven?

A steam oven has a function that combines steam with hot air throughout the cooking process. Dependent on the level of steam the oven offers, steam ovens come with a water tank accessible from the front of the oven.

What is fan forced oven?

Fan forced oven has a heating element and a fan on the oven's back wall. The main benefit of a fan forced oven is the even temperature distribution, which allows several dishes to be cooked at once with no need to rotate.

How do you clean your oven?

Depending on your oven model you can clean your oven following the two methods.



Steam cleaning

Cleaning is a breeze with steam. A 30-minute light oven cleaning that's chemical-free. Just add water and vinegar, turn on the steam cycle and wait until the grime is softened and loosened. Grab a cloth, some detergent and wipe. Your oven is clean again. Easy.



Traditional cleaning

Mix four parts of baking soda with one part of water and mix it together until it forms a thick paste. Then use a cooking spatula (some similar utensil that helps spread the mix) and spread the mix on the dirtiest parts of your oven only and let it sit for about thirty minutes. After that, grab a grout sponge and dip the sponge in straight vinegar and then just scrub vigorously. All the dirt should come out easily.

Read more: How to clean your oven - the simple way