A dishwasher is one of those home appliances that you never want to live without once you've used one. It's extremely convenient and saves you time and money. However, many people never really get the best results out of their dishwasher because they either load it incorrectly, use the wrong program or make other mistakes in its operation.


To help people who may be new to dishwashers or want to figure out what they're doing wrong, Electrolux Malaysia's here to tell you how to use your dishwasher efficiently and avoid common mistakes. So, follow us through the basic steps of using a dishwasher and look out for some of our tips and tricks that will help you get your dishes sparkling clean.


How to use your dishwasher correctly, step by step

Step 1: Ensure that your dishwasher has salt and rinse aid

If you're using your dishwasher for the first time (or it has run out of salt), you will need to add dishwasher salt.

The purpose of dishwasher salt is to soften the water, since hard water with high lime content makes it harder for the detergent to dissolve when the machine is running. That means the salt makes your cleaning more efficient.

The salt is added at the bottom of the dishwasher. Remove the bottom rack and open the screw cap that covers the salt compartment. If you're unsure of where to add salt in your dishwasher, check your user manual. Add salt until the compartment is completely full, then replace the screw cap and the bottom rack.

Rinse aid helps avoid unsightly water stains or other residue on your dishes. It is usually added next to the detergent compartment. Open the rinse aid compartment's lid and add rinse aid up to the fill line. Then close the lid.

Rinse aid has to be refilled much more often than salt, so make sure to keep an eye on your dishwasher's rinse aid indicator. It will let you know when it needs a refill.

Step 2: How to load the dishwasher correctly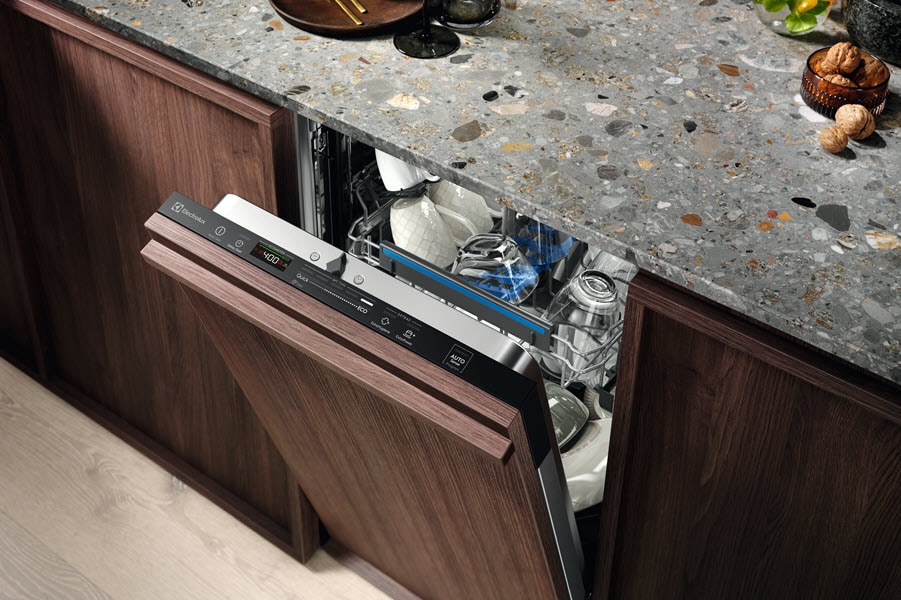 How to load pots, pans, plates, and large bowls

The bottom rack of your dishwasher is usually the place where the strongest cleaning happens. The water jets here are designed to tackle heavily soiled pots and pans as well as plates, so make sure not to place lightly soiled plastic cups or Tupperware bowls here. They may deform.

Instead, use this large compartment to place your pots and pans, your plates and large bowls. Remember to place dishes in the dishwasher with the soiled surfaces facing down to ensure perfect cleaning.

As for plates, place them vertically in the rack. You don't need to leave more free room between them than the rack allows, by the way. Don't waste space by only putting plates in every other rack opening.

How to load cutlery

If your dishwasher has a basket for cutlery in the bottom rack, place your cutlery in it, with the handles facing down. However, you may want to place sharp knives in the basket with the blades facing down to avoid injury.

Alternatively, place knives and other long utensils between your cups and bowls in the top rack, with the blades facing down. If your dishwasher has an extra cutlery rack at the top of the appliance, place cutlery in it with any sharp blades facing down.

How to load glasses, cups, and small bowls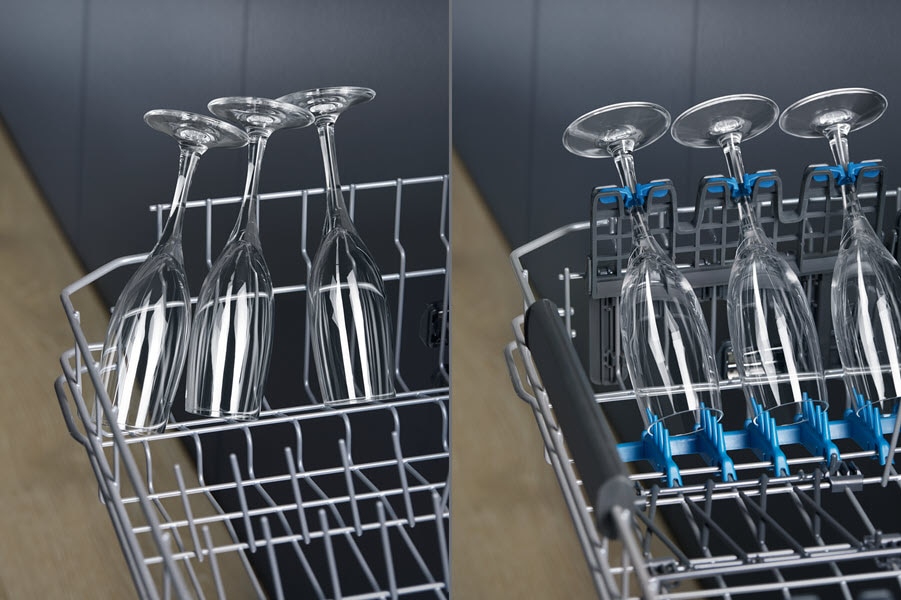 In the top rack, place glasses and cups with their bottoms up to allow the water jets to spray the inside of glasses without water getting collected in them. There is also usually room in the center to place small bowls or saucers that are too small for the bottom rack.

A question that often comes up in this context is: can you put ceramic mugs in the dishwasher? The answer is yes. Because they're glazed, they're usually dishwasher-safe. However, be cautious with mugs that are hand-painted. The dishwasher may wash off the paint, so it may be a better idea to clean hand-painted mugs by hand.

Before you close your dishwasher after loading it, make sure that the water sprayer arms aren't obstructed by any dishes.

Read more: Dishwasher benefits: 7 reasons why you should get one

Step 3: Add dishwasher detergent

Dishwasher detergent comes in many different forms, from liquid and gel to powder to tablets and packs. Which form of detergent you want to use is up to you, just ensure that you know how to use the correct amount.

Using the correct amount is generally easier with tablets and packs. You just use one of them. With other detergents, follow the instructions on the package as well as in your dishwasher's manual. Using powder dishwasher detergent, liquid or gel dishwasher detergent, you usually fill up the detergent compartment to the fill line.

If your dishwasher has a pre-wash compartment, you may use it for particularly heavily soiled loads. Add detergent to the pre-wash compartment to make your dishwasher's pre-wash cycle gives a stronger start to your cleaning.

Always make sure to use detergent that is designed for use in dishwashers. Never use normal dishwashing soap in your dishwasher.

Check out our tips on how to choose a dishwasher.

Step 4: How to choose the correct dishwasher program


A big part of using your dishwasher correctly is choosing the best program for your dishes. Depending on the manufacturer, dishwashers may offer different programs, but almost all share three basic cycles:


Quick cycle: uses higher temperatures and more water to clean lightly soiled dishes more quickly.
Intensive cycle: is best used for heavily soiled pots and pans.
Normal cycle: can be used for your everyday cleaning. Unless you need your dishes cleaned extra quickly or they're extra dirty, we recommend that you opt for the Normal cycle to save water and electricity.

Electrolux dishwashers also offer an Eco program that helps you save more water and energy with extra-efficient cleaning. Some Electrolux dishwashers also have an Extra Hygiene function that kills off 99.99% of bacteria and viruses.